Prices
Low Season
January (outside school Holidays)
from 15th of March until 31st of May and from 1st of October until 15th of December
Minimum 2 nights at 90 € per night
Full week at 520 € (74,30 € per nights)
High Season
School Holidays, Christmas and February
Minimum 5 nights at 90 € per night
Full week at 520 € (74,30 € per night)
From 1st until 30th of june and from 1st until 30th september
4 nights minimum at 90 € per night
Summer time: July and August
Minimum one week (from Saturday until Saturday) at 520 € (74,30 € per night).
Linen tableware is provided
Possibility of extra Cleaning fee for 30 €

Tourist tax
Toursit tax is 0,40 € per day and per person of more than 18 years old
0,40 € Par jour et par personne de plus de 18 ans.
Additional fees

Guarantee fee
A guarantee of 500 € by cheque which won't by cashed

Vouchers are allowed

The prices and the number of days are for information only.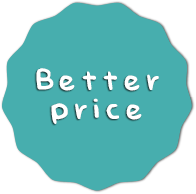 Reservation request
Cleo's Caravan
---
Django's Caravano
---
Les moyens de paiement

---
---